Click and collect is a retail fulfillment strategy that allows shoppers to buy online and pick up purchases in-store or at another designated location. Also known as BOPIS (buy online, pickup in-store), BOPAC (buy online, pickup at curbside), or curbside pickup, this model prioritizes convenience for both the merchant and the customer.
For independent retailers, accepting online orders for in-store pickup is an effective way to boost sales and increase customer satisfaction by making it easier for shoppers to buy. It requires a designated ordering system, space in your store, clear procedures, trained staff, and collecting feedback to fine tune the process.
Let's break down those five steps in detail:
1. Designate an Ordering System
Most retailers create an online store, website, or branded app to collect orders. You can also use a third-party app like Postmates to quickly get online. However, this method is more common for restaurants and cafes. Some businesses also choose to accept orders over the phone.
For retail customers, the best way to order online is often through a website or branded mobile app. If you want to offer click and collect orders, it may be worthwhile to build an online store and enable in-store pickup as a delivery method. Most popular ecommerce platforms and some website builders, like Shopify and Square Online, have features to add an in-store pickup option on the checkout page.
The fastest and most affordable way to take your business online for click and collect orders is with Square Online. Square Online offers a free online store and checkout page where you can list products for sale and allow customers to choose a fulfillment option. Customize settings like curbside pickup options, designated pickup hours and order windows, order prep times, order-ready customer notifications, and whether or not shoppers can schedule pickup times.
If you want a more robust ecommerce solution, Shopify is your best bet. It topped our evaluation of the best ecommerce platforms and best multichannel POS systems.
Set an Internal Process
Once your website is set up to take orders, establish a process for managing orders and letting customers know how to pick up their purchases. Set clear expectations around order processing and turnaround times, pickup deadlines, and step-by-step pickup instructions. For example, will their order be waiting for them in a display case? Should they approach the register and give their name? Is there a designated parking spot to wait at?
Tip: If you sell apparel, cosmetics, or other items with a high return rate, encourage shoppers to test or try-on their purchases before leaving—if you can provide a safe place for customers and employees alike. Exchanging the product before the customer leaves the store increases the odds of being able to restock the item.
2. Create Space in Your Store
Once you've decided how you'll accept and fulfill orders, the next step is designating a space to store orders until they're picked up. You'll want to choose a space that's easily accessible to employees yet still protected—this could be behind your checkout counter or in a designated area in a back room.
If you choose to store pickup orders in an inventory room or back office, don't forget about your sales floor. You don't want to keep associates busy picking up curbside orders from the back when there are unattended shoppers. This method also increases the amount of time it takes to help each customer—not ideal for high-volume businesses.
3. Create a Pickup Procedure
Once you've designated a storage space for pickup orders, determine how customers will collect them. If your store is high-volume, it might be most efficient to have a separate line in the checkout counter just for pickups or even make everything curbside. However, if you have a smaller store or only a few employees on staff at a time, it could be better to integrate order pickups in the regular checkout line.
Whatever you decide, use clear signage to let customers know where to go and what to do. For example, Starbucks has a designated mobile order pickup area in each of the store locations with a countertop sign.
In-Store or Curbside Pickup?
After setting a process for in-store pickup, consider whether you will also offer curbside pickup. Curbside pickup was on the rise before COVID-19, but has exploded since then. The Shopify's Market Insights team found that 38% of all shoppers plan to continue using curbside pickup. This has become a popular option and adds a level of convenience for customers on the go, those with mobility issues, and shoppers who prefer not to go inside the store.
Curbside pickup is a version of the click and collect fulfillment method in which a customer doesn't have to leave their vehicle to receive their orders. Typically, an associate will bring the products out and either hand them to the customer or place them in the vehicle for a contactless exchange.
If you decide to offer curbside pickup, indicate on your digital receipts and checkout screen how shoppers should contact you when they arrive. Most small businesses prefer that customers call the store. However, you might prefer a live-chat system within your point-of-sale (POS) software or even a tool like Facebook Messenger.
Pickup Policies
While you might figure out the logistics of physically getting customers their orders, you'll also need to set policies for staff and shoppers alike to follow to make your processes work.
Processing and turnaround times: How long will it take to pick and package an online order so it's ready for pickup? Who will be responsible for receiving and putting together these orders?
Order ahead time frames: How far in advance can customers place an order for pickup? Keep in mind how orders that are paid for but not yet collected could impact your inventory management process.
Marking orders as complete: Customers will likely pay for orders as they place them online. You'll need to figure out how to designate in your POS system when a customer has collected a paid order. Creating a standardized process will mitigate confusion between employees.
Unclaimed orders: Set a plan for how you'll remind customers to pick up orders and how long you'll hold unclaimed purchases. For unclaimed orders, determine whether you'll refund the shopper or repackage the order once your customer is ready to pick it up. For example, some repair shops will consider items left for more than 60 days abandoned. Whatever your policy, it's important to clearly communicate it to shoppers so they know what to expect.
Customer notifications: How will you keep customers notified when orders are ready or if there are any changes to their order? Collect multiple contact methods, like an email address and phone number, from each shopper so you have more options to reach them. This process is easier if you use a POS and online ordering system like Square or Shopify that can automatically track customers.
4. Train Your Staff
Now that you've created an organized system for collecting, managing, and handing off click and collect orders, hold a training session with your staff. Run through the procedures a few times to make sure they are comfortable and knowledgeable on all the processes and take time to answer any questions. Since store associates are the front line of your business and closely in tune with your customers, they will be able to offer suggestions and improvements to make the process faster and more efficient.
5. Gather Customer and Employee Feedback
After implementing click and collect orders, gather feedback from customers and employees to help fine-tune the process. Post-purchase email surveys are one of the best ways to collect customer feedback (instead of chatting in person or waiting for social reviews to come in) because shoppers are more likely to provide honest feedback.
Benefits of Click and Collect
Click and collect holds value for both merchants and shoppers:
Eliminates Shipping Costs and Wait Times
This fulfillment strategy eliminates the cost and hassle of shipping for both parties. Customers can shop and pay for items from anywhere online and, in many cases, orders are available for same-day pickup without the wait or shipping cost. Retailers don't need to worry about shipping costs and labor times eating into their margins. Click and collect or curbside pickup is less expensive than packaging and shipping orders or delivering them via courier.
Click and collect offers many of the same conveniences of ecommerce without either party having to pay for shipping. Forbes reports that half of shoppers who use click and collect do so because of the lack of shipping costs. Almost the same number say speed is an important factor.
For products like flowers, produce, or baked goods, click and collect also prevents items from damage or spoiling in transit.
Increased Sales and a Boost to Retailer's Bottom Line
For retailers, click and collect can increase sales by offering customers a more convenient way to shop, thus capturing more sales and making a more positive impact along the way—an improved buying experience benefits both you and your customers.
Plus, retailers still benefit from customers physically visiting the store, which can result in additional impulse purchases, provide opportunities for upselling, and reduce returns because customers are viewing the products in-person before bringing them home. Business Insider Intelligence reports that 85% of shoppers have made an additional in-store purchase while picking up an online order, with 15% of shoppers doing so "somewhat frequently."
Pinch Spice Market is a small business that sells primarily online. It introduced curbside pickup when it noticed a portion of local orders could be fulfilled more affordably than shipping via USPS. Curbside pickup was so popular that the company took inspiration from Amazon and introduced locker pickup as well.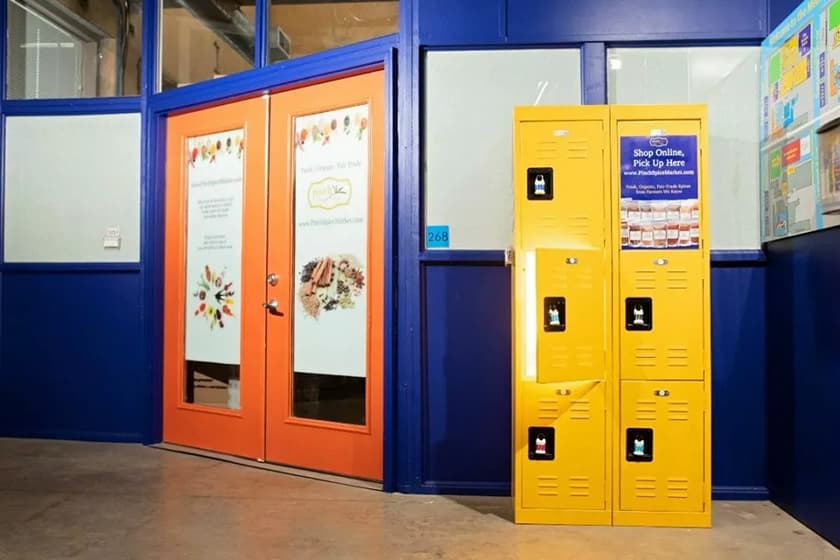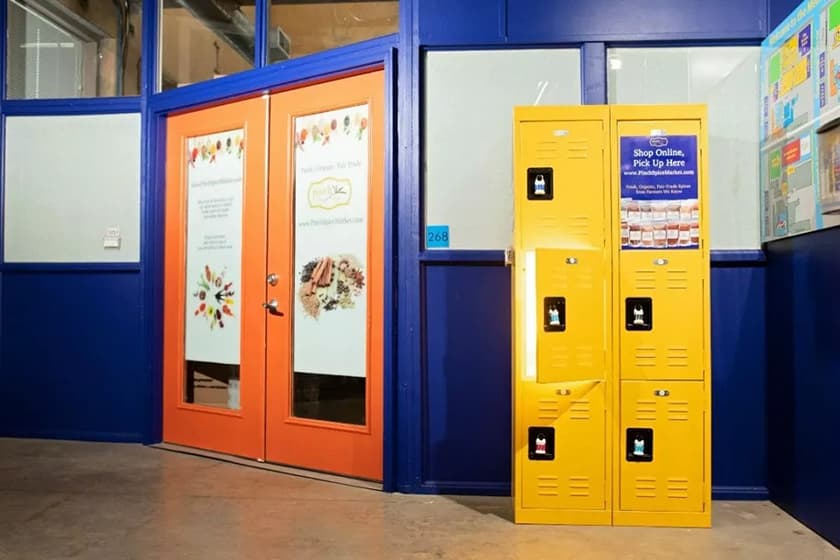 "This helped us continue our daily production and online order fulfillment, as we weren't rushing to meet customers outside as much, which while we were so very grateful for the business, was not easy to manage when you're just two people running a rapidly growing business," says co-owner Meaghan Thomas.
A More Convenient Experience for Shoppers
Customers benefit from click and collect because it's convenient—they're not waiting for items to be delivered, and they know the products they need will be available at the store when they arrive. According to Statista, 50% of consumers cited convenience as the main reason for choosing curbside pickup. And 47% choose curbside pickup because they like that it saves time.
Bottom Line
As the trend of click and collect and curbside pickup continues to grow rapidly, implementing this method of fulfillment is a great way for small businesses to increase revenue and customer satisfaction. The data doesn't lie: Consumers are interested in click and collect, and it's up to small businesses to take advantage of the opportunity. Solutions like Shopify and Square come with built-in features to manage all your online and in-store orders in one place, including options for click and collect.
If your store doesn't have a website, you can build one for free in just a few minutes using Square Online. List your products, enable Square Payments, and configure your order pickup settings to start processing online orders today.
You May Also Like…