Cross merchandising is the practice of displaying items from different product categories together to incentivize customers to make multiple item purchases. Cross merchandising provides value to customers by reminding them of a need, sparking an idea, or saving them time from having to search the rest of the store. Cross merchandising adds value to you, the business owner, by driving sales.
How Does Cross Merchandising Drive Sales?
Cross merchandising is a merchandising strategy aimed at increasing sales by improving the customer experience and incentivizing impulse buys and multiple-item purchases.
For example, the UK grocery store Tesco found that many of the people purchasing diapers were men. To incentivize these men to make add-on purchases when they were out for diapers, Tesco cross merchandised diapers with beer and bar snacks. Immediately, the grocer saw an increase in diaper, beer, and snack sales as men were adding a 6-pack of beer and chips to their diaper purchases. Not only this, but the men were more inclined to shop for diapers at Tesco, knowing that they could easily add on something for themselves without needing to even go to another aisle.
Cross merchandising provides value to customers by:
Reminding customers of a need: Helping customers realize they need another product to go along with their purchase such as placing mints by the coffee or ketchup near the hotdogs and hamburgers at the grocery store.
Saving customers time: Retailers save customers time walking through the whole store by having everything they need in one place such as having pre-cut veggies, bags of spinach, and salad dressing together in the produce section so customers can easily get all the ingredients for a salad.
Sparking an idea: Retailers can spark ideas for customers by displaying entire outfits, meals, or rooms, demonstrating how multiple products can work together.
Introducing customers to new products: Retailers can introduce shoppers to useful, popular, or viral products by displaying them in unexpected or prominent places around the store.
Creating an easy shopping experience: By anticipating the needs of your customers and placing items that are typically purchased together in the same area, you are creating a streamlined shopping experience for your customers, improving the ease with which they shop your store, and boosting customer satisfaction.
Cross merchandising increases sales for retailers by:
Encouraging impulse buys: You can encourage customers to make unplanned purchases by placing complementary items near each other, so when customers come to make their initial purchase, they are more likely to buy additional items.
Increasing your Units Per Ticket (UPT): By placing logical additions to purchases near each other, you encourage multiple-item sales, thus driving up your UPT.
Units Per Ticket (UPT): A popular retail metric that measures the average number of items sold per transaction.
UPT = number of items sold in X time/number of receipts in X time.
Cross merchandising is just one merchandising strategy that can help drive your sales. For more on merchandising techniques, and how they can improve your business, check out our visual merchandising best practices article.
11 Cross Merchandising Strategies for In-store Sales
There are many ways to cross merchandise products in your store. The best and most effective displays are also usually the most creative or unexpected, or provide a useful solution for the customer. Great merchandising strategies result in satisfied, loyal customers and higher product sales.
You will want to consider how you can incorporate cross merchandising strategies when planning your store layout. Check out our article for more information or download our step-by-step guide to plan your store layout.
Download Free Store Layout Checklist
Cross-merchandising strategies include:
1. Complementary Items Drive Impulse Sales
The most common type of cross merchandising is placing items typically used or consumed together in the same area. This strategy is used across all industries and can help drive impulse buys.
For example, some grocery stores will display packets of cookie dough along with milk, bottles of wine with gourmet cheeses, or waffle cones with ice cream, as each of these items complements the other. Even though they are in different product categories, they are often purchased and used together. This will also streamline the shopping experience for your customers, making it easier to find items that logically go together without having to search the whole store.
Tip: A popular complementary item strategy involves placing a primary item with smaller, less expensive add-on items. This technique is also known as secondary product placement and will make customers more likely to make an add-on purchase.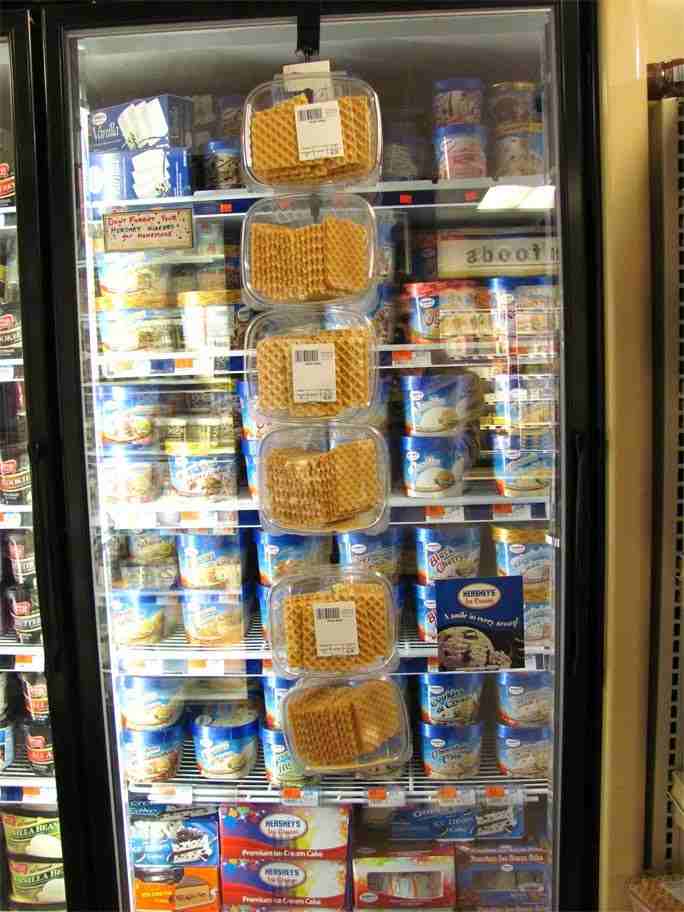 2. Thematic Cross Merchandising Sparks Ideas
Thematic cross merchandising is when items are placed together based on a theme such as an upcoming holiday or the start of the school year. These types of thematic displays often bring together products from various departments to provide a solution or spark an idea.
For example, at my boutique, we would always highlight Valentine's Day by creating a table and rack display featuring our red, sexy, and love-themed pieces. Additionally, we would pull items from everywhere in the store—from jewelry to cards to Valentine's specific add-ons like stuffed bears and chocolate hearts. This made it easy for shoppers to throw a date outfit or gift together without having to search the whole store, or start their ideas from scratch.
Thematic merchandising will often feature theme-specific items that are only on the sales floor for the limited-time promotion, like the stuffed bears and chocolate hearts mentioned above. Layer these items with your regular products to help move through seasonal merchandise, and also spark ideas on how "normal" products can work for the season in question.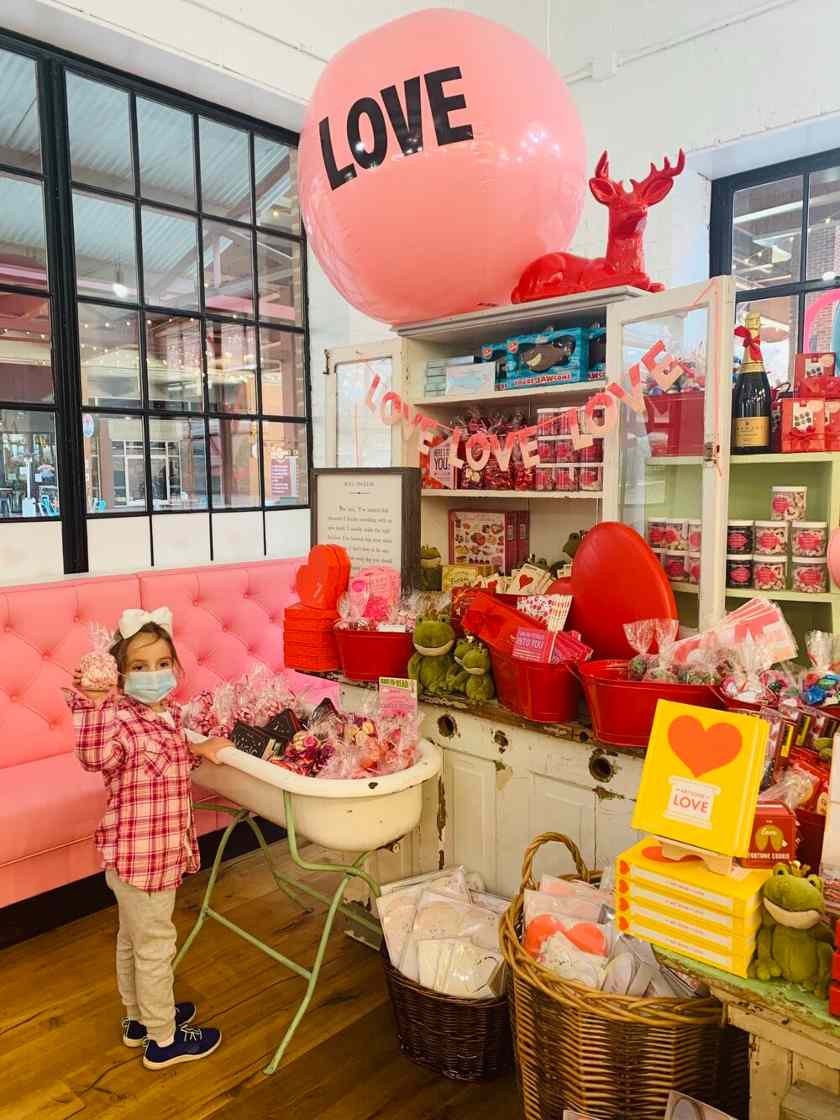 3. Contrasting Products Make Items Stand Out
Placing items together that are not typically related or contrast each other is another cross merchandising strategy. Retailers use this strategy to make customers pause and really look at the products on display.
For example, in the springtime, grocery and box retailers will sometimes display Peeps marshmallows all over their stores so that shoppers know they are available; or around Halloween, some retailers will display spooky decor or fun-size candy in unexpected places to remind shoppers of the upcoming holiday.
Contrasting product merchandising is great when you want to highlight a product that doesn't move well by placing it with one of your bestsellers. It can also be used to draw awareness to seasonal or limited-time items.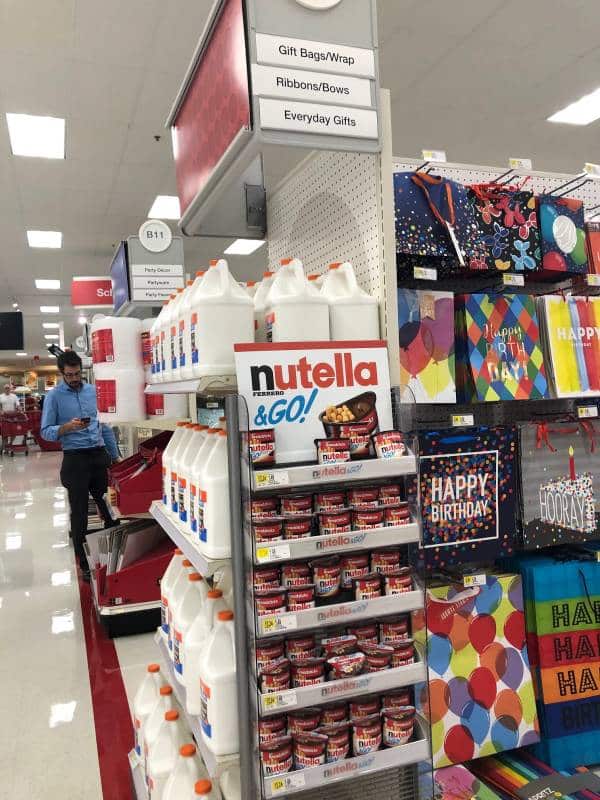 4. Substitute Products Increase Margins
The use of substitute products is a type of cross merchandising strategy that places alternative solutions next to a more traditional product. The substitute product typically saves time for the shopper or sparks an idea while offering a higher margin for retailers.
This strategy is especially popular among retailers that carry their own line of products, as they can place their alternative next to the traditional brand name item. Additionally, this tactic is often used to showcase the more expensive version of the same product and incentivize customers to try something new or treat themselves.
Did you know? Customers are more likely to buy items that are on eye level, so place your most expensive item substitute on eye-level shelves to incentivize the purchase of products with better margins.
For example, many grocery stores sell containers of pre-diced onions near the regular onion displays. Or, retailers place their brand of white T-shirts next to a fan favorite such as Hanes.
5. Impulse Items Incentivize Add-On Purchases
Impulse item cross merchandising is when you place impulse items, or products often purchased without forethought, in areas of your store where shoppers are most likely to notice these products.
Impulse items are typically small, low-cost items that customers can easily add to their purchase. Think candy, junk jewelry, cards, or snacks. Places where impulse buys are likely to occur include the area around the register, store entrances, end-cap displays, and sale or bargain areas.
The most common example of impulse item cross merchandising is the grocery store checkout aisle. There's usually an assortment of candy, magazines, Chapstick, mints, lighters, hair ties, and other low-cost odds and ends. These items have nothing in common other than being popular pieces that shoppers might purchase on a whim. Other retailers will place cold beverages, sunglasses, phone chargers, or other seemingly unrelated items by store entrances and checkouts to drive impulse sales.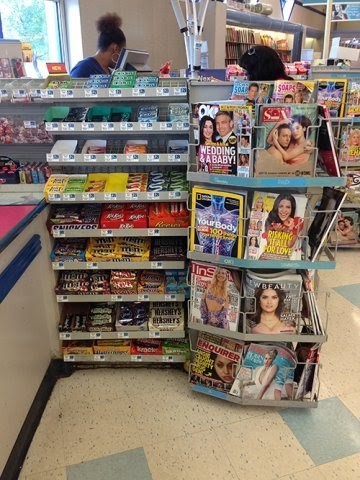 6. Bestsellers Draw Customers' Attention
Retailers can also cross merchandise bestselling products to draw customers' attention and promote the sale of surrounding, unrelated items. By giving your bestsellers a stand-alone display or feature location alongside unrelated products, people will be drawn in by the product they recognize, and then more inclined to shop the entire section.
For example, Red Bull, the world's leading energy drink brand, is constantly incentivizing grocers to place its products in key areas around their stores by demonstrating that when customers see the famous blue and silver cans, they are more likely to engage with the entire area in which the Red Bull is displayed, and thus more likely to purchase surrounding products.
7. Inspire Shoppers With Rack Arrangements
Another cross merchandising strategy is arranging your racks with pieces that can go together to create a complete look. This will spark inspiration in your shoppers, and is a space-effective way to layer unrelated products in a logical, sales-driving way.
I suggest starting with a key piece—either something bright, printed, or a bestseller—and layering out with matching items from there. The key product will draw the customer's attention, and the surrounding pieces will be logical add-on's to their look.
Additionally, merchandising each rack with a specific color family will make it easy for shoppers to find compatible pieces and incentivize them to purchase a matching product to go with their initial item.
For example, at my boutique, we would arrange our racks so that whenever we had a skirt or outerwear piece, some of our bestsellers, the surrounding items would be shirts or blouses that could easily match and make the interest piece into an outfit. Customers loved that when they grabbed a jacket off the rack, they didn't have to search high and low for a matching shirt. In other cases, customers who only planned on purchasing one item would be more inclined to add a matching piece to their purchase. Who can blame them when the perfect blouse was hanging right there?
8. Draw Attention to Underperforming Products
Retailers can increase sales by placing slow-moving products in different store areas where they might gain more attention or where shoppers are more likely to realize a need the product will fulfill.
For example, Buehler's Fresh Foods, a grocery store in the US, sold cherry pitters for years. However, they were not selling. Then, Buehler's decided to place the cherry pitters in the produce section alongside bags of fresh cherries, and they sold out of cherry pitters in all 15 locations.
This strategy involves a lot of trial and error, so monitor how your underperforming products are doing as you move them to different places around the store. Every product has a customer, you just have to find a way to communicate with that customer through merchandising.
9. Use Product Demonstrations and Samples to Show Utility
Product demonstrations and samples are when retailers create a display in which sales associates use products to show their utility, or give out samples of products for customers to try. You can use cross merchandising in product demonstrations and samples by combining products from multiple departments to show how they can work together, and inspire customers to buy all the components to recreate the demos and samples at home.
For example, a home improvements store might demonstrate how you can make a birdhouse with your kids using several tools, a few hardware bits, some wood, and a paint kit. Or, a grocer might sample an easy dinner idea that combines just three ingredients from throughout the store.
Product demonstrations are particularly effective for selling food, drinks, kitchen gadgets, tools, etc., and are a great way to inspire customers to use products in ways they may not have thought of before. Samples and demos also offer an excellent opportunity to show off slow-selling or new products that customers might not be aware of.
When setting up a demonstration, ensure that all the products in use are placed around the display, so they are easy for customers to add to their cart right there. Additionally, be sure to provide your sales associates with all the product knowledge they could need to answer shoppers' questions.
10. Make Product Connection Clear to Avoid Shopper Frustration
When cross merchandising, you want to be sure that even though the products being displayed together are not departmentally related, their connection is logical and clear to shoppers. One of the great pitfalls of cross merchandising is when your merchandise placement is nonsensical to customers, as this will not only decrease your sales potential, but may also dampen your customers' experience and sentiments about your business.
For example, say you are shopping at an art supply store and you find bleach displayed alongside black sweatshirts. Without making it clear that you can use the bleach to create fun, tie-dye designs on black clothing, this combination will not make sense to customers. This will not only give shoppers the impression that your store has an illogical or sloppy layout, but will also cause people to buy neither the sweats nor the bleach because there is no purchasing incentive.
To avoid this issue, use signage or demonstrations that make the product connection clear. You want to be sure that when you are cross merchandising, you are considering if the products would make sense to you as a customer. If the answer is no, you need to add display elements that will help create the connection.
11. Use Bundling to Upsell
Bundling is when a retailer packages several products together to be sold as a group—for example, a bath kit that includes bubble bath, a towel, loofah, and lotion. Bundling is a great strategy in cross merchandising, as you can bundle items from various parts of your store in a cohesive way that will encourage customers to purchase multiple items in a single transaction.
Going back to the bath kit example, say a customer was visiting your store just to pick up some bubble bath, but they see the bath kit option on display and decide to purchase the bundle, walking away with four items when she only intended to buy one. This is called an upsell, and is a great way to drive your sales.
Upselling: When you persuade the customer to upgrade their purchase by adding another item or choosing something more expensive.
Bundling is an especially popular strategy around holidays, as bundled packages are great for easy gift-giving. Another way to incentivize bundle purchases is to offer the bundle at a discount, where purchasing the items individually would cost more than buying them in the set. This will give customers the sense that they got a great deal, while driving up your average ticket value.
4 Online Cross Merchandising Strategies
Cross merchandising is not just a brick-and-mortar merchandising strategy, and should also be used online to drive online sales and make navigating your website easier. You can utilize many of the methods outlined above, tailoring them for a virtual experience. Ecommerce sites, however, don't have physical product displays to work with, so they need to use other tools to suggest additional products that shoppers might want.
1. Use Lifestyle Strategies to Demonstrate Value
Lifestyle strategies show how products can be used in real life through:
Photos: Add lifestyle photos to your website to illustrate your products in real life.
Blog posts: Write blog posts that talk about your products and how they can be used day-to-day.
Influencer demonstrations: Reach out to influencers, and have them use your products in a post to show how a real person puts your merchandise to use.
Product catalogs: Create a product catalogue that provides information about product features and uses.
Retailers will often feature their lifestyle content on their homepage, so as soon as customers enter their online storefront, they are inspired and can see a real-life example of how they might use your products.
For cross merchandising, your lifestyle content will work similarly to an in-store demonstration, when you are able to combine several products and show how they can be used together.
For example, you might enter a website and the first thing you see is a group of models clad in the brand's clothing, walking the streets or out to eat, or someone using the seller's pasta maker in their home kitchen, along with the brand's new dinnerware and flatware lines.
2. Make Add-On Suggestions on Product Pages to Cross-Sell
Add-on suggestions are when retailers display complementary items on another piece's product page that can easily be added to shoppers' carts. This strategy can be used to show customers all their options (think alternate colors or models), spark inspiration, and incentivize add-on purchases.
A popular example of this strategy is the "Complete the Look" suggestion. This is when clothing retailers will show the pants, jewelry, and bag that make the blouse you clicked on into a complete outfit.
Add-on suggestions are a great cross-selling strategy because, by showing related pieces on the initial product's page, you are making it tempting and easy for customers to add items to their purchases.
Cross-selling: When retailers present additional products to their users that are logical add-ons to their primary product and can easily be added to their order.
Be sure to plan your related SKUs when updating your website. You should also be keeping the search for related products in mind as you are buying, so that all of your merchandise has associated products that make them complete. You can also utilize a product recommendation AI service like Wiser to make smart product recommendations for you.
3. Use Bundling Strategies to Upsell
Online stores sometimes cross merchandise products that are frequently purchased together as one singular price. This will not only make shopping easier for your customers, but will also improve your upselling opportunities.
Consider what products are typically used together, say batteries and a flashlight, and make those items available for both individual sale and as a bundle. You can also make "frequently purchased together" suggestions, with the estimated price of all the items bundled together.
One way to incentivize a bundle purchase is to make the bundle less expensive than buying the products separately. You can also package your bundles creatively and engagingly to make the bundle purchase more appealing.
4. Use Shopping Cart Data to Make Apt Suggestions
Online shopping carts are virtual carts that allow customers to add and hold items until they complete their purchase. Besides leading customers to checkout, shopping cart software like BigCommerce stores product and purchase information.
If you are able to monitor what people already have selected and are planning on buying, you can suggest other products that complement or are similar to the items in their carts. This is a great opportunity to cross merchandise products that customers may have missed, and it places them conveniently so that they don't have to search your whole website.
For example, say a customer has a few summer blouses in her cart, so you have a pop-up in the cart that advertises your sandal special, another summer item from a different department.
How to Track and Drive Your Cross Merchandising Effectiveness
When defining what makes your cross merchandising effective, it all comes down to sales and whether your strategies are driving them. Keep in mind, however, that cross merchandising is a game of trial and error. You will likely have to try many strategies and continue evolving them to keep your cross merchandising at its best.
Use the following strategies for driving and tracking your cross merchandising success:
Collect Sales Data and Identify Trends
The best way to understand how well your cross merchandising is working is by keeping track of your sales data. You will want to analyze how cross merchandised products are selling and look for shopping trends that you can emulate in your cross merchandising.
For example, say you have determined that the majority of shoppers who are buying pasta sauce are also buying pasta. This insight would lead you to cross merchandise these products. Or, say you had placed watering hoses in the seeds aisle at your home goods store, but they are not being sold in this spot. This might lead you to place the watering hoses in the gardening tools section instead.
Some retailers choose to do this through observational data, especially in smaller storefronts. For larger retailers or those that want an automated system, we recommend using an integrated point-of-sale (POS) system like Lightspeed. Lightspeed is a cloud-based system that monitors sales and offers built-in reports with data on inventory, employees, and more.
Observational Data: Insights on sales or other retail metrics like customer experience or employee sentiments based on the on-the-ground findings of you or a salesperson.
Research Your Competitors' Strategies
Another way you can get insight into successful cross merchandising strategies is by researching what methods your competitors are using. These can be other small businesses, but you can also look to your industry's leaders.
Industry leaders typically have corporate merchandising departments that are constantly researching best practices and monitoring their own success to inform every merchandising decision. Take advantage of their insights by visiting their stores and taking cross merchandising inspiration to drive your own sales.
For example, at my store, we sold bohemian-inspired casual clothing similar to Urban Outfitters and Free People. Our merchandising team would constantly visit the Free People and Urban Outfitters to find inspiration, and to get insights into how these leaders were styling and setting up their stores.
Track Units Per Ticket (UPT)
Units per ticket, or the average number of units sold per transaction, is a great data point to help you understand how your overall cross merchandising is performing. Many businesses will track this number on a weekly or even daily basis.
If this number is going up, the number of products being sold in every transaction is increasing, and your cross merchandising initiative is performing well. If this number is going down, the number of units being sold per transaction is decreasing, and your cross merchandising initiative needs some reevaluation. UPT will not offer insights into specific products, but does give an overall picture of the efficacy of your cross merchandising techniques.
Cross Merchandising by Industry
Any retailer can use cross merchandising to increase sales, but it will look different depending on the type of store. You will want to consider how your customers are shopping and their needs when devising a cross merchandising plan. These factors will look different depending on the industry, so cross merchandising strategies should also vary from retailer to retailer.
When it comes to who is doing your merchandising, this will depend on your size. Larger businesses typically have central operations departments dedicated to testing and rolling out merchandising strategies. For small retailers, however, merchandising strategies and execution are generally the responsibility of the store owner or manager.
Cross merchandising is used in almost every type of retail store, including:
Since grocery shoppers often have a set shopping list, grocers will use cross merchandising primarily to facilitate an easy shopping experience. For example, placing chips with jalapeno peppers, avocados, and guacamole seasoning packets will make it easy for shoppers to get everything they need to make guacamole.
Following this "recipe format" is a popular technique to expedite and simplify the customer shopping experience. Think pasta sauce in the same aisle as pasta, and flour with the chocolate chips.
Box stores typically have a wide array of merchandise, and shoppers tend to both have set wants and browsing tendencies. In this case, cross merchandising is used to create an easy shopping experience and make seasonal or thematic product displays.
Have you ever walked into a Target in August? Backpacks, pencils, pens, lunch boxes, gym shorts—everything you could need for school—are set up in a big "Back To School" display. This diverse lineup of products displayed thematically is an excellent example of how thematic cross merchandising can work for a big-box retailer.
When entering a convenience store, customers are generally coming for a specific product, so these retailers focus on cross merchandising to drive impulse buys. For example, displaying snacks on the side of a beverage refrigerator makes grabbing a bag of chips to go with your soda almost irresistible.
Shopping at boutiques is often a creative experience for customers that involves pairing multiple pieces together to create an outfit. In this case, boutique retailers use cross merchandising to spark ideas in customers through displays such as outfits for specific occasions or holidays.
There were countless times when people would come through my shop ready to buy, but convinced they were unable to put an outfit together themselves. While sales associates were there to help, more often than not, these customers would end up buying an entire look off of a mannequin display out of convenience and assurance that the pieces would work well together.
Gift shops, particularly those in tourist destinations, are typically used by customers for browsing and, you guessed it, gift shopping. For this type of retailer, cross merchandising is used to create thematic displays and sell combinations of gift items. For example, a gift store might bundle a seaside scented candle with a decorative shell to sell as a combo gift.
Office supply stores sell a wide variety of products that fall under an umbrella category. Shoppers tend to use these kinds of shops to get specific items while also browsing. Office supply stores use cross merchandising to introduce customers to new brands and innovative supplies by cross merchandising these items with staple products.
For example, say you are shopping for ballpoint pens. When you find the writing utensils aisle, there are bright displays for new, erasable pens and special notebook paper that does not bleed ink. You would have never seen these products had they not been right next to the tried and true Bic pens that you usually use, and you find that you can't pass up getting one of those notepads.
Bottom Line
Cross merchandising is the practice of displaying products from different categories together to increase sales. This product placement strategy increases sales by reminding customers of a need, offering a convenient solution, or sparking an idea.
Cross merchandising typically requires some trial and error, and retailers need to pay close attention to their sales data and customer shopping patterns to cross merchandise effectively.
Merchandising will be a major part of starting your retail business, and cross merchandising is only one aspect of your entire merchandising strategy. You can check out our article on merchandising definitions and strategies to learn more about the other elements of merchandising, including product pricing and store layout, and how to implement them.