Skype for Business is a robust video communication platform that offers everything—from instant messaging to HD video conferencing. For many years now, it has helped teams communicate instantly from across the world. Get started by setting up a Microsoft 365 account, downloading the app, and adding contacts to your Skype for Business account. Then, set up your phone number and subscribe to a calling plan to begin making audio and video calls.
Read on to learn more about the steps for using Skype for Business:
1. Set Up a Microsoft 365 Account
Skype for Business no longer requires you to download an app for desktop use, but is not available as a standalone product. You'll need a Microsoft 365 Business subscription to get access to the platform. If you do not already have an account, you can go to the product website to get started. Once you have an account, you can sign into the service and download the app on your device.
Here are the Microsoft 365 Business subscription options:
Microsoft 365 Essentials: This entry-level package can be licensed to up to 300 people and comes with web and mobile versions of Skype for Business as well as the other base products in the Microsoft 365 family. It costs $5 per user, per month. Each user can download the app on up to five phones and five tablets at once.
Microsoft 365 Business Standard: This version comes with the ability to download Skype for Business on your Mac or PC. Each user can download their own version of Skype on up to five tablets, phones, and desktops. It costs $12.50 per user, per month.
Microsoft 365 Business Premium: This version has all the features of the Business edition but adds a companywide intranet that you can set up and deploy. It also adds the Microsoft Teams software and Outlook Customer Manager. It costs $20 per user, per month for up to 300 users.
Each option includes Skype for Business and classic Microsoft apps like Word, PowerPoint, and Excel. Plus, accounts have access to OneDrive and Microsoft Teams.
Once you choose your subscription and sign up, you're ready to download Skype for Business on your desktop or mobile devices.
2. Download the App on Your Mobile Device (Optional)
Go to the app marketplace on your iOS or Android mobile device. Find the Skype for Business app. Tap the download button, and then sign into the app with your Microsoft 365 credentials when it's installed. Grant the app permissions to your contacts, camera, and notifications. You are now ready to use Skype while on the go.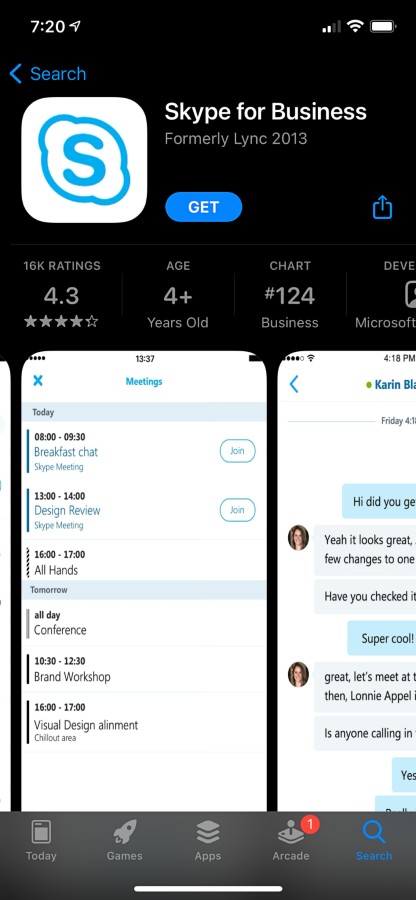 3. Add Contacts to Your Skype for Business Account
When you sign in to Skype for Business on a mobile device, you'll be asked to give permission for Skype to access your phone's contact list. Once you allow permission, you'll see all of the names and numbers in your Skype for Business address book. If you're using the desktop or web version, you'll have to add each person's name and phone number manually.
Skype for Business also enables you to create Contact Groups. This feature lets you create individual groups for specific teammates and clients. Make a new user group by right-clicking your contacts list and clicking "Create New Group" on the list of options. You can name this group whatever you want.
4. Set Up Phone Numbers in Your Skype for Business Account
Skype for Business allows you to make phone calls to any phone number, even if that person doesn't have a Skype account. Fortunately, setting up phone numbers for your Skype for Business account is much simpler than setting up a full-featured phone system. You have the option to port an existing number into Skype or get a brand-new one from Microsoft.
You can learn more about this step means by checking out our guide on number porting or expanding the tabs below:
Choose Your Phone Number
---
Subscribe to a Calling Plan
---
5. Start Communicating Using Skype for Business
Although Skype for Business is undergoing a slow deprecation in favor of Microsoft's flagship communication tool, Microsoft Teams, users can still communicate with other Skype users using the platform's internal instant messaging. Users can also make external video and audio calls. Learn more about these options by selecting from the drop-down below:
What Is the Difference Between Skype & Skype for Business?
Skype for Business and the traditional Skype application have a lot in common, but there are a few nuances that set them apart:
Skype: A free-to-use video conferencing tool that's great for small businesses of up to 20 employees. It provides basic calling and video chatting functionality, but it's unable to make calls to landlines or mobiles.
Skype for Business: Upgrades your account to allow up to 250 participants in online meetings. It also provides high-level security, allows you to manage employee accounts, and integrates into your other Office apps.
Skype for Business Alternatives
Microsoft has publicly stated several times that Teams will be a large part of their business software strategy going forward, so you can expect integration with other Microsoft products in the future. That said, there are a number of other options you may want to consider depending on your preferred communication strategy. For example:
Frequently Asked Questions
How do I use Skype for Business for the first time?
Simply sign up for a Microsoft 365 account and download the Skype for Business app on your mobile device or launch the Skype desktop app from your start menu. Follow the instructions above to start sending instant messages or making calls.
How do I make a video call with Skype for Business?
Hover over a contact and click the video icon button. If the user accepts your request, you'll both be automatically placed into a video conference room.
Can I use the personal version of Skype for my business?
Yes, you can, but your options are a bit more limited. You'll have a limited number of users who can join your conference calls, and you won't be able to make calls to landline or mobile phone numbers.
When will Skype for Business be discontinued?
Skype for Business Online is being discontinued on July 31, 2021, and Microsoft will offer support for Skype for Business Server until 2025.
Bottom Line
Skype for Business has been one of the most popular business communication apps in the world. However, it's going away very soon in favor of Microsoft's all-in-one communication platform, Microsoft Teams. You'll be able to enjoy all the things you loved about Skype for Business (and more) over on this modern application.
Need a more specialized phone service? We recommend Grasshopper. It offers features like a free toll-free number, unlimited domestic calling, automated attendant, and voicemail transcription. Give it a try for yourself by signing up for a 14-day free trial.