Most voice-over-internet-protocol (VoIP) headsets have built-in call control features like mute, hold, and volume adjustment, and many use Bluetooth to connect wirelessly. Since tons of products are out there on the market, finding the best one is difficult. This is why we evaluated several options based on price, overall performance, and standout features to identify the seven best on the market.
| Products | Type of Connectivity | Ballpark Price* | Best For |
| --- | --- | --- | --- |
| Poly Voyager 4220 UC | Bluetooth | $179.99 | Businesses that need an inexpensive headset with a balanced mix of wireless range, talk time, headset functions, and wearing comfort |
| Jabra Evolve 75 | Bluetooth | $275.95 | Agents needing to pair with PCs and smartphones simultaneously |
| Sennheiser MB 660 | Bluetooth | $350.99 | Businesses looking for maximum wireless talk time |
| Poly CS540 | DECT (Digital Enhanced Cordless Telecommunications) | $137.49 | Agents who need the greatest operating range for moving around the office |
| Logitech H600 | Bluetooth | $64.50 | Virtual call centers that would benefit from wireless headsets |
| Jabra Biz 2400 II | Wired | $209.00 | Traditional call centers that prefer wired headsets |
| Microsoft LifeChat LX-6000 | Wired | $35.99 | Businesses looking for a no-frills, budget-friendly VoIP headset |
*Deals and better sales prices may be available when you shop online
How We Evaluated VoIP Headsets
To discover the best VoIP headsets, we analyzed several options that connect to IP phones, softphones, or VoIP apps and looked at key features, like the ease of use and sound quality, that would make each a good buy for a business. Since each business owner's needs are different, we also identified features that had the best value for most companies. For example, headphone comfort is important, as well as noise cancellation.
Out of all the products that we reviewed, we found the Poly Voyager 4220 UC to be the best-rounded option for businesses. It has a good level of comfort for extended wear, it's easy to set up, and it features HD voice so that you can hear your customers clearly. On top of these advantages, it also comes in at an affordable price point and has a few bells and whistles that help it stand out.
Still, there's definitely competition, and we found several more that could easily work in your office or for your agents. Here's a breakdown of our criteria:
40%
Functionality Enhancers
40% of Overall Score
These features include aspects of the headset like the comfort level, how easy the headset is to set up and use, the sound quality during calls, and whether the headset is wireless or not. These features quickly establish the day-to-day experience using the headset.
40% of Overall Score
These are slightly more niche, but they enhance the overall experience with your VoIP device. What's the wireless range on the headset? Is there noise cancellation? Can you change the positioning of the microphone? How long can you talk without completely draining the battery? Each of these is very useful, but mileage will vary for each business.
20% of Overall Score
With these guides, we also like to evaluate products based on the broader user experience. We looked into devices that have a higher customer review rating. We also looked at price, overall features, and how easy each VoIP headset was to use.
*Percentages of overall score
Poly Voyager 4220 UC: Best Overall VoIP Headset
Poly Voyager 4220 UC
Overall Score:
4.83

OUT OF

5
i
Our score is based on a weighted evaluation of dozens of similar products and services conducted by our experts.
What We Like
Built-in sidetone feature enables you to hear yourself on calls
Poly Hub for managing the headset features on PC or your smartphone
Noise-canceling microphones
HD voice setting for clearer calls
What's Missing
This is a bulkier style of VoIP-capable headset
The volume control buttons aren't pronounced enough
Pricing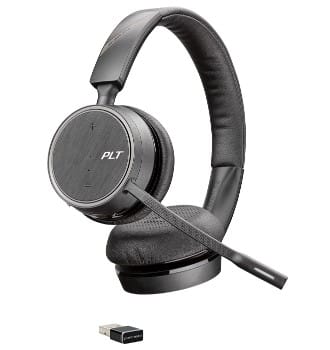 When it comes to a reasonable price point, features, ease of use, and setup, the Poly Voyager 4220 UC is the best overall VoIP headset. It's easy to spend over $200 for an essential office equipment like this, but this product manages to come in under that price point without sacrificing too many features.
With the 4220 UC, you have the option of going wired via USB-C or wireless, and when using Bluetooth, you're granted 12 hours of talk time.
As the overall best of the bunch, this is still not a cheap headset since it costs about $180, but there's significant value in more premium aspects of the device like the "Find My Headset" feature. Additionally, the headset gives useful vocal prompts when connecting and tells you the remaining battery level.
Jabra Evolve 75: Best VoIP Headset for Multidevice Support
Jabra Evolve 75
Overall Score:
4.58

OUT OF

5
i
Our score is based on a weighted evaluation of dozens of similar products and services conducted by our experts.
What We Like
Excellent sound quality
Active noise cancellation
15-hour talk time
What's Missing
Could use more padding
The ear cups can feel sweaty
Pricing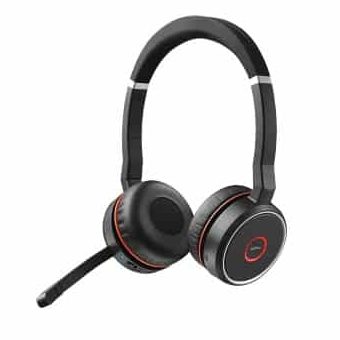 Business isn't always stationary; you may need to go about making printouts or even preparing coffee while still on the line with customers. While using the Jabra Evolve 75 headset over Bluetooth, you have a good amount of range; you can move as far away as 100 feet without losing your call. While this doesn't quite compare to a digital enhanced cordless telecommunications (DECT) headset like the Poly CS540, which offers a 400-foot range, 100 feet is typically more than enough range to move about the direct area.
This is definitely a useful device if your provider has call flip; you can connect it to two devices simultaneously, so keeping the conversation flowing naturally is easy. Other features like active noise cancellation and a relatively comfortable design make this a standout VoIP headset, but it does lose a few points for its expensive price point. When all is said and done, expect to spend almost $300 on this product.
Sennheiser MB 660: Best VoIP Headset for Talk Time
Sennheiser MB 660
Overall Score:
4.20

OUT OF

5
i
Our score is based on a weighted evaluation of dozens of similar products and services conducted by our experts.
What We Like
82-foot Bluetooth range
Standby time of up to 15 days
Sennheiser's NoiseGard technology delivers excellent noise cancellation
What's Missing
The ear cups are massive
Very expensive
Pricing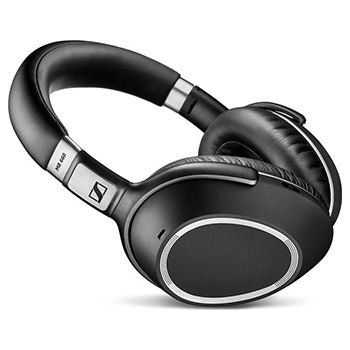 How much do you want to spend on quality? With the Sennheiser MB 660, you'll be paying almost $400 thanks to the premium Sennheiser speakers and top-shelf components. These are designed for professionals looking for premium features. Aspects of the headsets like noise cancellation, impedance, and frequency response are useful in an office environment.
When it comes to business, interruptions can mean lost business. When using your VoIP headset, the last thing you want is to lose a call thanks to a dead battery. This is where Sennheiser MB 660 stands out as it has a full 30 hours of talk time. This is by far the most of the wireless headsets featured here—even more than the Jabra Evolve 75's 15 hours of talk time.
Poly CS540: Best VoIP Headset for Range
Poly CS540
Overall Score:
3.94

OUT OF

5
i
Our score is based on a weighted evaluation of dozens of similar products and services conducted by our experts.
What We Like
400-foot range
Connects easily to both VoIP and landline phones
Three wearing options
What's Missing
DECT headsets won't connect to smartphones or PCs
Sound quality could be stronger
Pricing
The Poly CS540 stands out clearly when compared to the other products in this guide thanks to its over-the-ear design. It also stands out for wireless functionality since this is also the only DECT headset in our guide. DECT is an alternative wireless technology that grants much more range than Bluetooth. As a result, you can use this 400 feet away from the base or IP phone.
This is a good option for agents who need to go make copies, consult with colleagues who can help with a call, or who simply want to grab a cup of coffee. Unlike products such as the Jabra Evolve 75 and the Sennheiser MB 660, this is a headset that won't connect to a smartphone or PC, so consider that before your purchase. Also, if you need talk time, this only provides seven hours of use per charge, and both of those Jabra and Sennheiser products provide 15 and 30 hours of talk time, respectively.
Logitech H600: Best Wireless Call Center VoIP Headset
Logitech H600
Overall Score:
4.05

OUT OF

5
i
Our score is based on a weighted evaluation of dozens of similar products and services conducted by our experts.
What We Like
Very lightweight design
Inexpensive price point
Laser-tuned sound quality
What's Missing
Talk time is limited to six hours over Bluetooth
Only has a 33-foot range
Pricing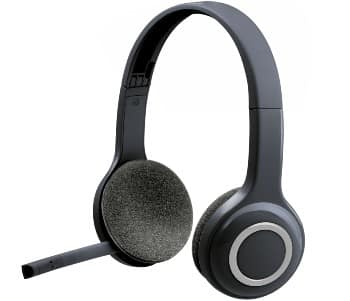 While some might question the slightly uncomfortable foam ear cups used on the Logitech H600, the inexpensive price point coupled with a solid design make this a competitive call center headset. While these lack HD sound, the stereo sound quality is very strong, especially when coupled with the noise-canceling microphone.
These only weigh about 10 ounces, so you'll barely notice them while in use. You'll need the included USB Nano receiver for wireless connectivity, so these are headsets that you'd use with a softphone app rather than for a smartphone.
Jabra Biz 2400 II: Best Wired Call Center VoIP Headset
Jabra Biz 2400 II
Overall Score:
3.93

OUT OF

5
i
Our score is based on a weighted evaluation of dozens of similar products and services conducted by our experts.
What We Like
Peakstop tech automatically filters out loud noises over 118db
Leatherette cushioning on the ear cups and above the head
Fully rotatable boom arm
HD voice
What's Missing
For a wired headset, the Jabra Biz 2400 is expensive
There's no wireless option
Pricing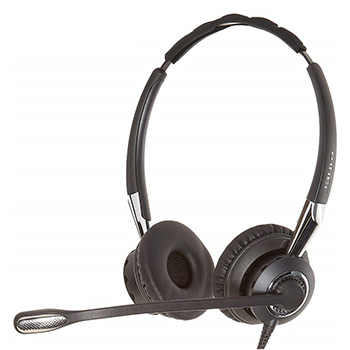 Many modern call centers use hot desking, which means that agents use the same resources. When this is the case, your agent's headsets will need to be durable enough to withstand extended use. The Jabra Biz 2400 II is a contact and call center headset designed to last for years thanks to a reinforced cord and a strong boom arm. In a call center environment, durability is critical; it's easy to run over cords or wear out mics. Out of the products reviewed, the Jabra Biz 2400 II is the most ready for this kind of punishment.
This is a purely wired headset that employs key features like noise cancellation and has a lightweight design for extended wear. Along its cord, your agents will find a dedicated control dongle that provides muting, volume control, and hold functions.
Microsoft LifeChat LX-6000: Best Budget VoIP Headset
Microsoft LifeChat LX-6000
Overall Score:
3.85

OUT OF

5
i
Our score is based on a weighted evaluation of dozens of similar products and services conducted by our experts.
What We Like
Ultra-wideband digital audio
Noise-canceling microphone
Ergonomic design with cushioned ear cups
What's Missing
There's no wireless capability
It's cheaply made to drop the cost
Pricing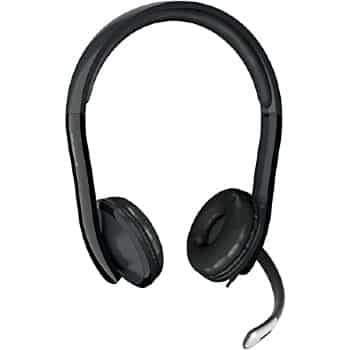 The Microsoft LifeChat LX-6000 is a wired VoIP headset that's priced very affordably. In fact, it's almost half the price of the second-cheapest headset, the Logitech H600. It's easy to find it on the market for less than $40. Features include stereo sound, a noise-canceling microphone, and inline volume and microphone controls. The microphone on this headset is also very adjustable so that you have the most comfortable arrangement for your calls.
The ear cups on these are also highly padded so that extended wear will be a comfortable experience. That being said, the material used tends to be a bit sweaty on warmer days. This is a fully plug-and-play headset, so it's easy to get dialing once you've set up your VoIP system. It's also Skype for Business-certified.
What to Look for in a VoIP Headset
A good wireless VoIP headset will have several key features, providing value for your business. Here are a few features to look for:
Noise Cancellation
Call centers and some offices can be very loud, especially if you have a team that's always on the phone with customers. For this reason, consider a VoIP headset with some form of noise management. This will make it easier for your agents to communicate with customers, and it will prevent agents from asking the customer to repeat information.
There are two main types of noise cancellation technology:
Passive: Passive noise cancellation virtually muffles outside sound so that the agent hears the customer better. VoIP headsets that use a passive system block ambient noise using a specific shape that isolates the ear.
Active: This form of noise cancellation uses the microphone to create an anaphase wave. The anaphase wave creates a sound that is the opposite of any sound in the external environment. This virtually mutes the sound so that you can't hear it.
As a general rule, active noise cancellation is more desired because it delivers an isolated experience for dialers. Still, since this is a powered approach to noise cancellation, it can cause the battery in a pair of Bluetooth VoIP headsets to wear down quicker, cutting down talk time.
---
Wireless Functionality
Sometimes, you'll be using these VoIP headsets to communicate with customers when you're on the move. VoIP wireless headsets typically use Bluetooth to connect to your preferred IP phone, softphone, or VoIP app. While this isn't a required feature, having this kind of wireless communication adds convenience to your calls. It allows you to go about other business while communicating.
Range is another aspect of a headset's wireless features. Are you always going to be at your desk when conversing with a client? Sometimes, you may need to move around, and a device with an extended range will facilitate this. Most Bluetooth devices will have a range of about 33 feet, but it's possible to find VoIP headsets with 100-foot ranges. For those who want to further enhance their range, DECT headsets can have ranges up to 400 feet, which is useful in some office environments.
---
Extended Talk Time
This feature is exclusive to wireless headsets since you have unlimited talk time when using wired devices. Talk time on headsets will vary based on the internal battery and the features you use while talking. For example, features like noise cancellation and HD voice will drain the battery on your headset more than simply calling without any extra features.
As a rule, you want headsets with a talk time that will last anywhere between eight and 10 hours at the base. This provides functionality for an entire shift. Also, if wireless headsets have optional USB connectivity, this will allow your agents to plug in and talk without draining the device's internal battery.
---
Frequently Asked Questions (FAQS)
Do you need a special headset for VoIP?
Headsets certainly aren't required for most small business VoIP services, but they can be a very useful feature. These headsets are more comfortable to wear during calls since they rest on the head, and most will connect directly to any of the VoIP endpoints you use to make calls.
What is a VoIP wired headset?
A VoIP wired headset is a communications device that uses USB or another connection method to connect to your VoIP endpoint. For example, you can plug in your headset to an IP phone or into the USB port of your PC so that you can communicate via a softphone app or browser tab.
Which headsets do call centers use?
As a rule, call centers use headsets that are wired. Additionally, some use more extensive headsets, but for the most part, these types of businesses don't need headsets that would work with a smartphone app, though this has changed with the advent of virtual call centers.
Bottom Line
Having the right hardware is essential, and the best VoIP headset for your business will provide you with a comfortable and isolated environment for conversing with your customers and partners. You'll also be provided with clear audio, and many work seamlessly with IP phones, softphones, and smartphone apps from your business phone system provider.
We found the Poly Voyager 4220 UC to be the current best of the lot, but any of the other products we selected could easily fit your needs. Here are a few questions to ask before you make a purchase so that you can make an informed decision:
How much noise isolation do I need?
Do I need a headset with a lot of wireless range?
Am I going to be connecting to a VoIP app on my phone?
How much talk time will I need?