Today's leading call center phone systems leverage voice-over-internet-protocol (VoIP) technology and cloud-based infrastructure to better manage inbound and outbound call traffic. These progressive systems give businesses access to advanced call center features like automatic call distribution (ACD), interactive voice response (IVR), CRM integrations, and live call monitoring.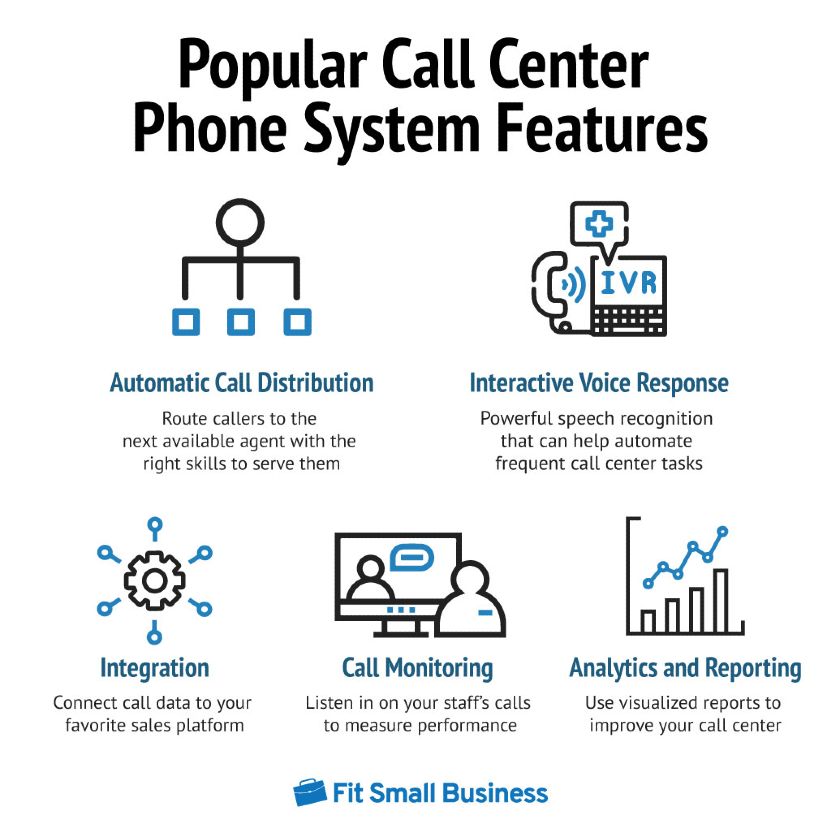 When evaluating the right call center phone system for your business, you'll want to ensure it has the features and functionality you need to use it seamlessly in your workflows. We analyzed the top-performing platforms to find the must-have call center phone system features your business needs in 2021.
1. Automatic Call Distribution
Automatic call distribution (ACD) is an essential call center feature that routes inbound calls to employees based on predetermined factors. These factors can include time zone, agent availability, skill set, and inbound callers. ACD helps inbound calls reach the right person from the get-go, decreasing the number of call transfers and reroutes necessary to satisfy a caller's needs.
ACD dramatically improves your call center's workflows—whether you need emergency routing for your healthcare offices or want to help repeat callers connect with the same agent they spoke with previously.
2. Interactive Voice Response
Interactive voice response (IVR) automatically greets your callers and receives voice input to help callers find assistance quickly. IVR can use caller voice prompts to route them to the correct extension, and it also bypasses the need for human intervention by providing answers to frequently asked questions. For example, callers learn about their account activity or business hours through IVR's self-service technology.
IVR is one of the fundamental call center phone system features, but not every platform provides equal functionality. Some VoIP services only provide custom greetings or auto-attendants, but these aren't the same as IVR systems. Auto-attendants allow users to input responses manually via the keypad, but it lacks the advanced functionality and flexibility of a more sophisticated IVR system.
3. Third-party Software Integrations
Call center phone systems do a great job at managing your call traffic, but you likely have a suite of other applications to handle your agents, customers, leads, and to-do lists. Third-party software integrations empower you to connect your call center data to your other applications, like customer relationship management (CRM) systems, calendars, and workforce management tools.
Many leading platforms offer the ability to connect information about your callers to a CRM like Salesforce or Zoho CRM, and then track callers as prospects to a sales pipeline. Some systems lend themselves particularly well to work in concert with other services. For example, Zoho Desk connects data with its CRM, its project management software, and most other services in its product lineup.
Some call center phone systems provide integrations with remote access applications, allowing your agents to temporarily take over another user's machine, which could be their own, an agent's, or a customer's.
Check with your business phone system provider to see what integrations they provide. You'll want to ensure it'll integrate with the current CRM software you're using before you make the switch. Some platforms also offer an open API to empower developers to build call center communications straight into their apps and websites.
4. Call Monitoring
Today's leading call center systems give managers complete insight into live and previous phone calls. Call monitoring lets you listen in on calls as they happen or listen to recordings of calls that have already happened. This empowers you to track agent performance and inform the training, guidance, and resources you provide to your team in the future.
Some advanced call monitoring systems go beyond listening in on conversations and give managers the ability to interact with the caller or agent. Managers can whisper in the employee's ear (meaning only the agent can hear—not the customer), jump into the live call to assist, or take over the call altogether.
5. Analytics & Reporting
Qualitative insights from call monitoring are important, but it's also helpful to gather quantitative data and generate visualized reports to ensure your call center operates at its full potential.
Leading services collect data, such as total call volume, average call time, survey scores, and wait times. They'll output this data in charts and graphs to help you spot opportunities for improvement. Some services provide these reports in real time, while others only offer them in past look-back periods.
Most analytics features empower you to filter data to find the detailed insights and time periods you're looking to capture. For example, you could pull up a report on how busy your call center is on Monday afternoons compared to Friday afternoons. These insights can help you make better staffing, scheduling, and processing decisions.
When it comes to analytics and reporting, it's hard to find a better contact center system than Freshdesk Contact Center. Freshdesk Contact Center's platform is easy to use and loaded with built-in, customizable reports to help you analyze processes, team performance, and individual agent conversations. They also offer a free version so you can try it out for yourself.
Visit Freshdesk Contact Center
6. Mobile Apps
Today's contact center agents aren't always in the office at their desks—they're at home, on the bus, in meetings, and on the go. Modern-day call center software solutions pack most (if not all) functionalities into mobile apps for smartphones and tablets, allowing employees to take business communications wherever they go.
Most contact center solutions offer apps for iOS and Android that provide calling, texting, email, reports, and all of the other features you'd find in the desktop versions of your favorite services. You can use a call center phone handset if you want to, but the portability of an app is a huge benefit.
However, not all mobile apps are created equally. Some services put a lot of time and attention into their mobile apps, building them out to be a complete extension of their platform. Others offer mobile apps as a seeming afterthought, loading the bare minimum functionality and features onto a less-than-helpful user interface.
7. Omnichannel Support
Phone conversations are the most preferred communication channel for customer service, but online chat and email aren't far behind. That's why it's important to offer a variety of support channels to fit your customers' needs—you want to communicate with them on the platforms they use instead of forcing them to adapt to your processes.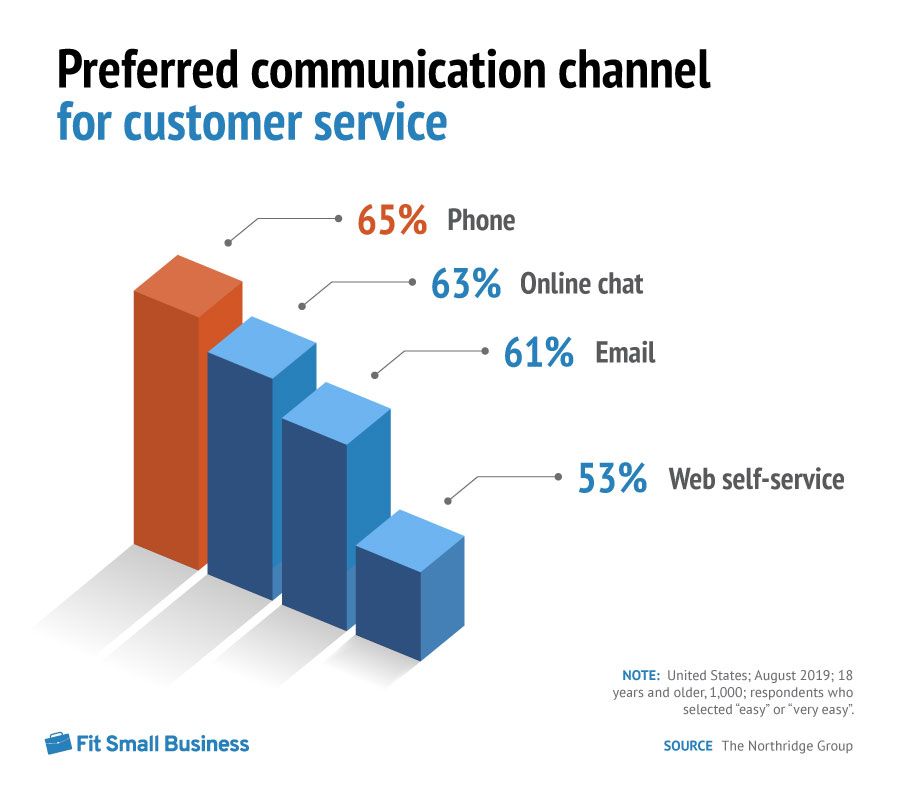 Omnichannel support is a standard feature of most phone services, but the channel flexibility varies. For example, premium versions of Zendesk Talk allow you to take support over live chat, email, and even SMS text messages. Accommodating your audience and letting them reach you in whatever way suits them best is vital for driving customer satisfaction.
8. Call Presence (Agent Status)
Call presence lets your managers and teammates know the current status of all support agents. This feature helps representatives route calls to available agents, decreasing the wait time for callers and streamlining customer service.
While it'd be great if your ACD or IVR systems routed calls to the perfect agent every time, that rarely happens in most cases. Sometimes, you'll need to transfer live calls to another available agent with a more appropriate skill set or higher permissions—and you'll need call presence to see the real-time status of the representatives.
9. Call Parking
Call parking is the go-to option if your agents don't have the call presence feature on their platform or all available representatives are currently busy. Call parking puts a phone call on hold until another agent is available to continue the conversation—it's a type of waiting room.
Call parking is a great alternative to asking a caller to call back, routing them to a busy line, or leaving them on hold while you finish up with another call. Not all call center software solutions provide this feature. However, it does go by different names depending on the platform.
Bottom Line
Call center phone system features are critical to handling call volume and driving customer satisfaction—today's contact centers need to do more than just make and take calls. Call center features like ACD, IVR, and call monitoring empower your agents to work more efficiently and improve caller experiences. Other tools, like omnichannel support, ensure that getting help is as convenient as possible for your audience.
When it comes to call center providers, there's no shortage of options. Based on functionality, pricing, and usability, we recommend Freshdesk Contact Center. It's easy to use, affordable, and loaded with all the call center phone system features your business needs to drive top-notch support at scale. Click the button below to start using the service for free.