A business phone number does more than offer customers a way to get in touch. It boosts your company's credibility and helps establish a local, national, or international presence. Plus, a business phone number can increase consumer trust, even for online-only stores. Business numbers include toll-free 1-800 numbers, local numbers, and personalized vanity numbers.
Use this guide to learn how to select new digits for your company and explore ways to get a free business phone number:
Business Phone Number Options
| | Pros | Cons | Price (Approximately) |
| --- | --- | --- | --- |
| Local Phone Number | Shows you serve the local community | Unfamiliar area codes turn off prospects | Free or starting at $10 per month |
| Toll-free/800 Number | Gives the impression of a larger business | Higher per-month costs for number and minutes | Starts at $10 per month |
| Vanity Number | Makes it easy for customers to remember your number | There aren't many unused vanity numbers | $10 to $50 per month or higher |
Traditional landlines, voice-over-internet-protocol (VoIP), and virtual phone systems typically include one or more business numbers with a monthly plan. Depending on your provider, you may be able to choose local, 1-800, or vanity numbers. Some small business VoIP services offer custom toll-free numbers or international 1-800 numbers.
Virtual phone numbers tend to be less expensive because it gives you a new business phone number. It routes calls to your existing personal or business number, whereas VoIP systems are standalone services. However, both VoIP and virtual solutions let you keep professional and personal calls separate, making both systems an excellent choice for business owners.
If you're unsure which small business phone system is best for you, take our quiz to get an answer in less than a minute:
What Type of Business Phone Service Is Best for You?
Answer a few questions about your business, and we'll give you a personalized product match.
Below we break down the differences between local, toll-free, and vanity business phone numbers and give examples of plans from various VoIP and virtual number providers.
Local Business Phone Number
A local business phone number begins with a three-digit area code that corresponds to a city or region. Most phone service plans come with a free business phone number and offer unlimited minutes and text messaging. You can also add extra phone numbers for an additional fee.
Brick-and-mortar companies select a local prefix to build trust with regional customers. But, companies also opt for local numbers in other cities or international locations to break into new markets and increase brand visibility, even if the company doesn't have a physical storefront.
For solopreneurs, Google Voice offers a free business phone number and calling plan. The solo phone system lacks features found with paid services, such as an auto-attendant and advanced call routing. However, Google Voice is a convenient option to instantly separate personal and business calls and comes with voicemail. Plus, you can answer using your computer as a desk phone or receive calls on a personal cell phone.
Read our guide to learn how to get a free Google Voice number.
Toll-free Phone Number
Although many mobile users have unlimited nationwide calling, a toll-free number with a 1-800 prefix delivers a professional impression. These days, it's tougher to find a true 1-800 number, but other toll-free prefixes are available, such as 888, 877, 866, 855, and 844.
For landline callers, a toll-free number eliminates long-distance charges. However, international callers may pay more to call a toll-free number versus a U.S.-based local number. If you have a global presence, it may be worth establishing a second phone number in their area.
Unlike local business numbers, VoIP providers usually charge for inbound calls to a toll-free number. Some services, like RingCentral, allot business users a certain number of 1-800 minutes per month, which helps cut down on costs. With RingCentral, customers use a mobile app to make conference calls or set up call forwarding to any internet-connected device.
Learn how to pick the best toll-free business number for your company by checking our guide on 800 numbers.
Vanity Phone Number
Vanity phone numbers are easy to remember and work as a great marketing tool for print or digital advertisements. The most memorable business numbers include 1-800-FLOWERS and 1-800-CONTACTS. But you can also buy a local vanity number with a regional area code and custom digits, such as 309-FLORIST.
Several VoIP and virtual phone number providers let you select a vanity number for an add-on charge. Others, like Grasshopper, offer vanity numbers for free with a plan purchase. Install the mobile app on your personal phone, then make unlimited business calls and send text messages without needing a separate device. Grasshopper plans include several great features, including a virtual receptionist, voicemail-to-email, and call management options.
Explore the benefits of this tool by reading our Grasshopper review.
5 Tips for Picking the Best Business Phone Number
If you want a second phone number for business calls or need a small business phone system, you can choose between VoIP and virtual phone number providers. However, you may have questions about selecting the correct area codes or wonder how many users can receive calls.
Some services give one line and number per user, whereas others offer plans with multiple phone numbers, regardless of the number of users. Use the following suggestions to determine which business phone number is suitable for your company.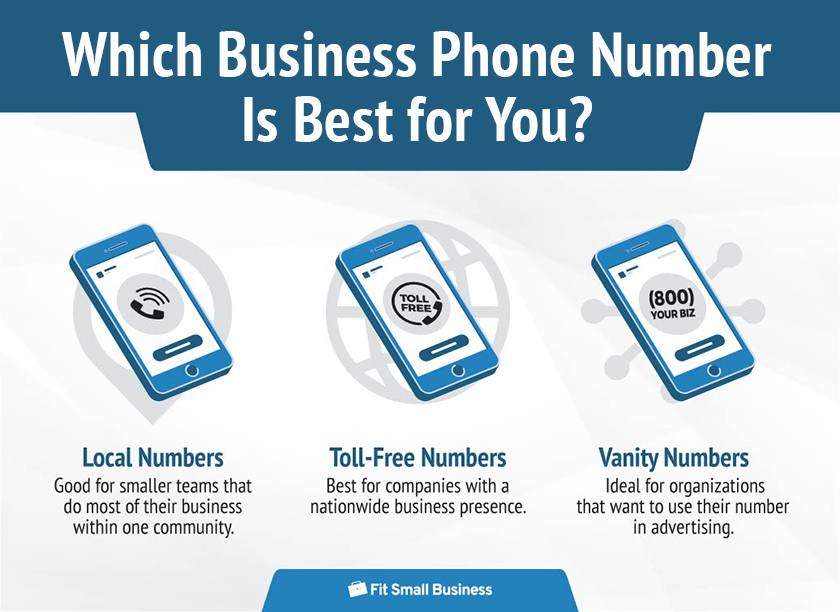 1. Get a Business Number for Local Customers
Small businesses wanting to build their reputation and market their brick-and-mortar store benefit from a local business number. This is especially true if you're calling leads, as your local phone number shows up on their caller ID and looks less spammy than other types of numbers. But, you don't need to pick area codes in your exact location. If your company is in a small town and you want to reach more customers, consider selecting a prefix from a nearby, larger city.
2. Add a 1-800 Number for a National Presence
Toll-free numbers began as a way for callers to reach companies without paying per-minute charges via landline services. Today, many customers use a mobile phone with unlimited minutes, so this is less of a concern. Still, toll-free numbers look professional and can give small businesses the appearance of a larger organization.
3. Create a Memorable Impression With a Vanity Number
Vanity phone numbers can have a local or toll-free prefix using a custom combination of digits. You can pick a word or simply find an easy-to-remember number, such as 833-345-6789 or 844-444-5555. Vanity numbers work well for digital, radio, and print marketing campaigns where your number is prominent. It's less important for online companies that handle most communications via messaging apps or email.
4. Consider Multiple Numbers for Your Team
Some phone systems come with multiple phone numbers, which you can use for different business aspects. For example, you may want a different number for technical support for existing clients. Or you may give each team member their own number that correlates with their sales region to appeal to several local markets. Grasshopper plans come with one to five phone numbers per plan, making it a great option for small businesses.
5. Pay Attention to Add-on Charges
Most VoIP mobile apps let users add a number to their accounts. But, providers charge additional fees for extra business phone numbers, and these charges can add up quickly. If you want more than one number, look for providers with multi-number plans and the right mix of features to ensure you're getting the most value for your budget.
Frequently Asked Questions (FAQs)
How can I get a free business phone number?
Services such as Google Voice provide a free business phone number app and unlimited phone calls and text messages when you use mobile apps or a web browser on your computer. Free calling requires internet service and gives you one number per line.
Can I get a local international business phone number?
Yes. Providers like 8×8 and 800.com give business users access to local numbers in dozens of countries. An international number can boost your global presence and encourage customers to reach out without worrying about per-minute fees.
Can I switch services & keep my business phone number?
Yes. If you pick a vanity or local number and want to switch VoIP providers, you can port your existing number. Your new business phone system will give instructions for porting your number, which usually includes contacting your former service and filling out a form. However, some services charge a porting fee, so pay attention to the fine print.
Bottom Line
VoIP services let you and your team answer calls from anywhere without affecting your professional reputation. The best business phone number for your company is one that suits your company's needs and budget. Moreover, it should come with must-have features, like an auto-attendant, voicemail, and a mobile app.
For businesses looking for a toll-free number, we recommend RingCentral. All plans come with toll-free minutes, call forwarding, and call management features.